From offices to industry, prophylaxis is a key aspect of ergonomics.
In addition to disabilities and age, workplace design can also take account of the aging process. The aim here is to be able to consider the individuality of every employee and adapt accordingly, so as to prevent poor posture and physical wear and tear from occurring in the first place. Factoring in all three aspects in this way is a top priority for Andreas Block, member of the works council and representative for the severely disabled at Sartorius Lab Instruments GmbH & Co. KG. This company belongs to Sartorius AG and is a leading international manufacturer of balances and laboratory equipment. In 2016, when all Sartorius companies based in Göttingen relocated to the new Sartorius Campus, a general works agreement entitled "Shaping the future together" was drawn up. One of its key objectives is to promote age/ageing-appropriate workplace design that is also suitable for users with disabilities. This involved replacing a large number of existing assembly work benches, and Sartorius Lab Instruments made use of the modular item Work Bench System for all non-standard solutions.
Firm focus on employee individuality
To help his disabled colleagues, Block initiated a collaboration with Lower Saxony's integration office, which is providing financial support for measures to ensure Sartorius Lab Instruments benefits from workplace design that is suitable for disabled staff. It's also extremely important to him to include the entire workforce. "Take the following example: We set up a disabled-friendly workstation complete with work bench that is used in shifts, which means a disabled employee may well be followed by an able-bodied colleague. Consequently, the workstation needs to be designed so that anyone can work there, regardless of their physical abilities," explains Block. The main feature of the solutions implemented with item is therefore their adjustable height. In the case of item tables, this takes place at the touch of a button. Block was also won over by the item Work Bench System's modular design and wide range of accessories. "Although we have standard dimensions that we need to keep to so that the tables fit in the relevant location, I can customize the design. With item, you can always put things together exactly how you need them – and it always works," he says. To see the various possibilities in practice, a prototype item work bench was also planned, ordered and ultimately tried out on site in Göttingen.
Workplace design for ergonomics and stability
This initial prototype created the basis for all further special solutions. The main challenge was ensuring the flexibility required for use by all kinds of employees while also considering the sophisticated and sensitive processes involved in making balances, where it's all about minute fractions. Block, his team and item therefore needed to work together very closely when designing the workstations. He also refers to this as "research work". Block has always been a big fan of the customer service item provides. "The field staff are excellent and they're always ready to listen," he emphasizes. Block is particularly proud of a very specific new development – the electrically height-adjustable weighing stone table. Tables of this kind traditionally have a very solid design, given that the balances are adjusted and calibrated on them. The weighing stones incorporated in these tables are similar to heavy granite blocks.
The purpose of all this is to ensure a completely still environment where the balances are protected from vibrations. They are so sensitive that they register a powerful earthquake anywhere in the world, which would produce highly inaccurate measuring results. It was therefore vital to design a height-adjustable weighing stone table without compromising on stability, so physics experts also formed part of Block's project team. The innovative electrically height-adjustable weighing stone table is in fact made up of two different tables. The weighing stones are on the inner frame, while the working area is on the outer frame. There is no connection whatsoever between the two tables, because the vibrations generated on the work bench must not be transferred to the weighing stones. A number of the new weighing stone tables are already in use and more will follow. Block is highly satisfied. "We can easily adjust the tables to suit staff with different builds, and stability is also ensured. That's been the highlight of our collaboration with item so far," he says.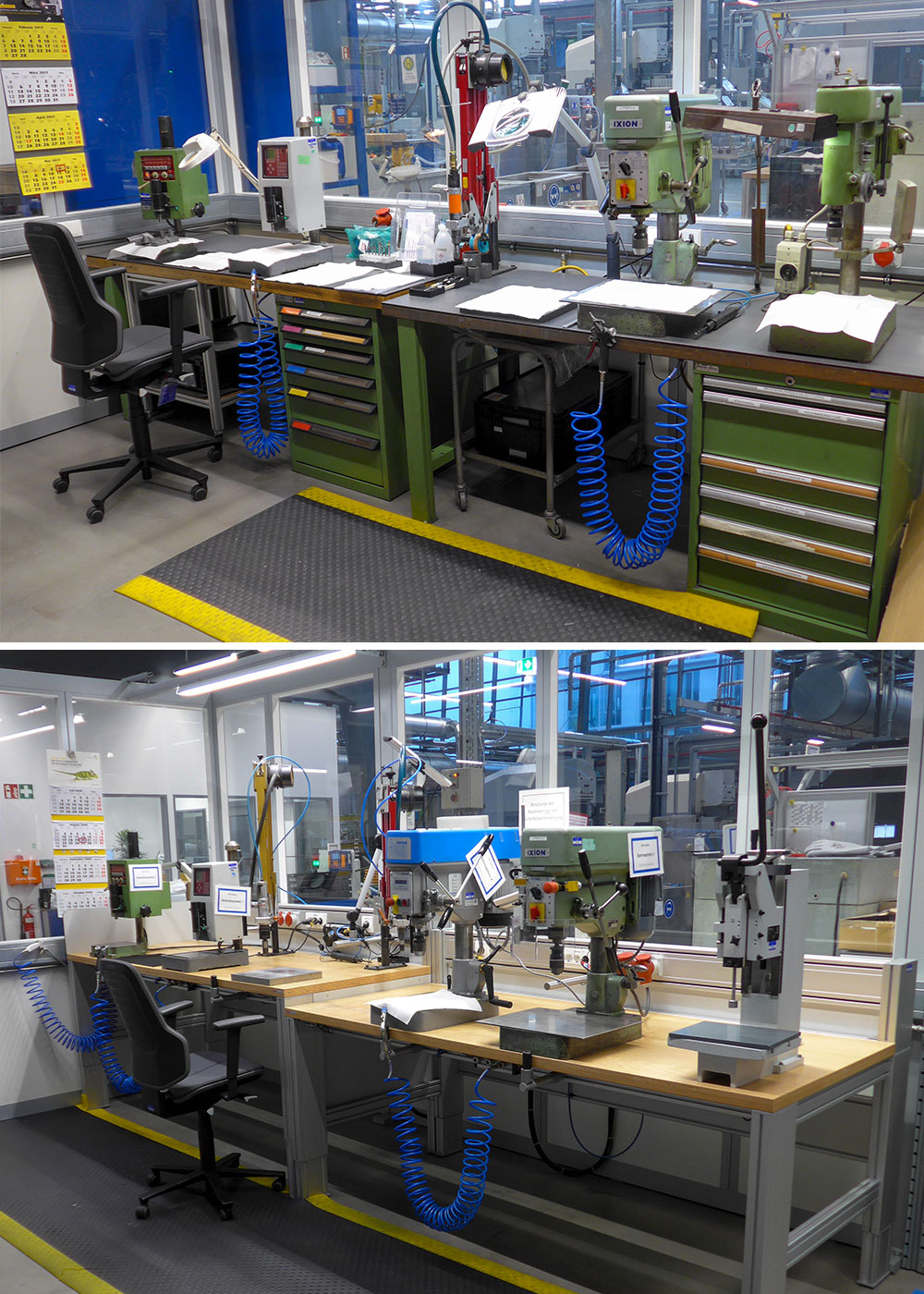 Work benches for manual drilling and tapping can also be adjusted to a customized height. The lifting force of the electrically height-adjustable work benches also makes it possible to adapt the working height of the machines located on them to specific requirements.
Would you like to keep up-to-date with developments relating to ergonomics? Then we have something that's perfect for you! Simply subscribe to the item blog by completing the box at the top right.