"Virtual Events: A New Way to Keep In Touch in the New Normal"
COVID-19 has brought many changes to the manufacturing industry, and learning how to adapt has become an everyday issue. Currently, companies are accelerating the execution of projects to adapt as quickly as possible to this 'new normal.'
As part of this new norm, physical distancing has become important. With that comes the dilemma of distancing without sacrificing collaboration, human connection, and safe space. The challenge of accomplishing distancing while maintaining close relationships doesn't mean a delay, however; on the contrary, it leads to the creation of new technologies and innovations and allows for the use of new platforms for sales, communications, and customer service.
The virus had led to the cancellation or postponement of many trade show events, but not all wanted to go that route. In the search for new alternatives, the German Virtual Expo led the way showcasing how an experiential event can provide an emotional interpersonal connection digitally. Organized by the network of German chambers in Latin America, the event was held from July 14 to 17.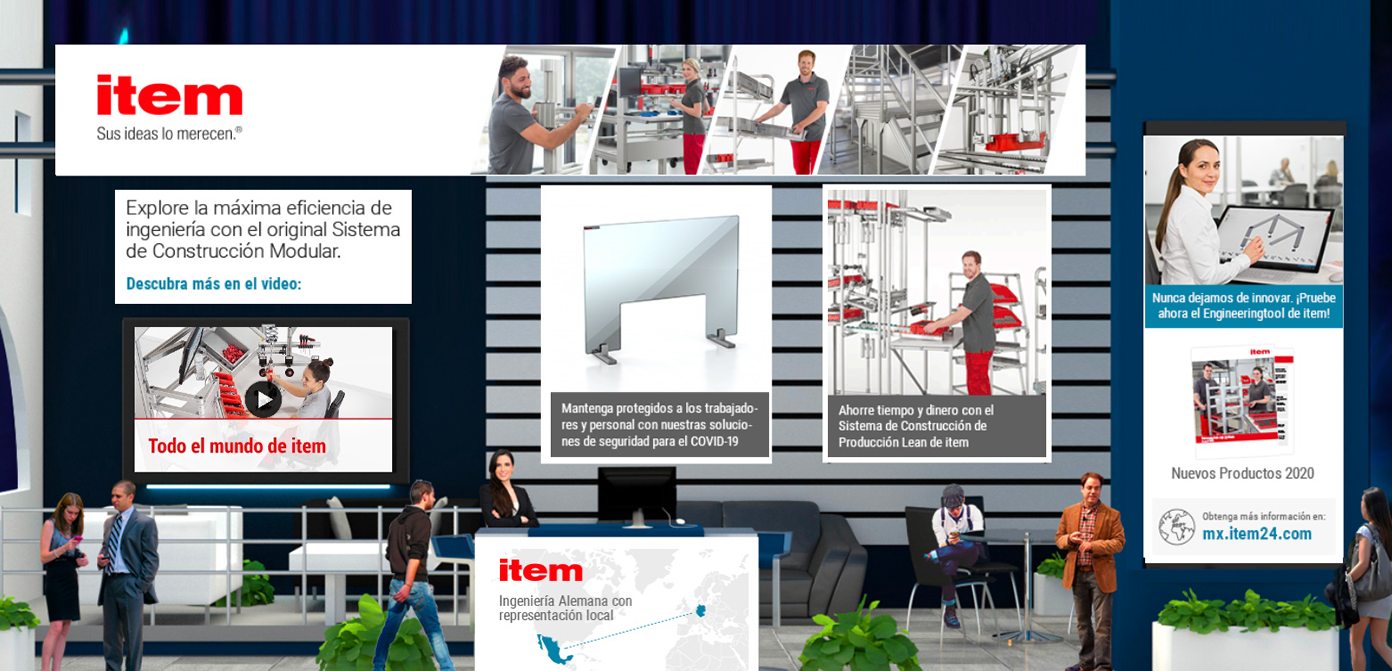 The Show
Expo Virtual Germany was the first multi-sector fair held virtually, created with the purpose of reactivating the Latin American economy. The fair made it possible to access the German market as well as international and business webinars.
item Mexico had the opportunity to be one of 200 exhibitors, with over 100,000 digital 'visitors.' This new way way of participating in events changed the rules of interaction and the way connects are made becomes more interesting.
During these exhibition days the item Mexico team had the support of our item Expert team, who were online to provide information, answer questions from visitors, or schedule virtual appointments to provide more one-on-one service.
The digital booth was decorated with a large image gallery where images of Karakuri/LCA, Containment Solutions, the item Lean Production Building Kit System, the MB System from item, and the item Workbench System were presented.
The booth's Download Center allowed visitors the opportunity to access item's portfolio of product catalogues and white papers.
Innovation Draws Attention
Showcasing the latest item innovations, the digital booth allowed item Mexico to demonstrate to visitors what sets item Mexico apart as the best option for industrial applications. At the conclusion of the show, item Mexico was able to reflect on the new opportunities that had arisen out of challenges, allowing the Expo to become an excellent opportunity to connect with professionals and create solutions for new groups.
Meeting these professionals' needs and finding innovative ways to solve their workplace dilemmas is nothing new to item, but this Virtual Expo affirmed that, as the new normal causes the industry to change, item is prepared to adjust.
Because Your Ideas Are Worth It.