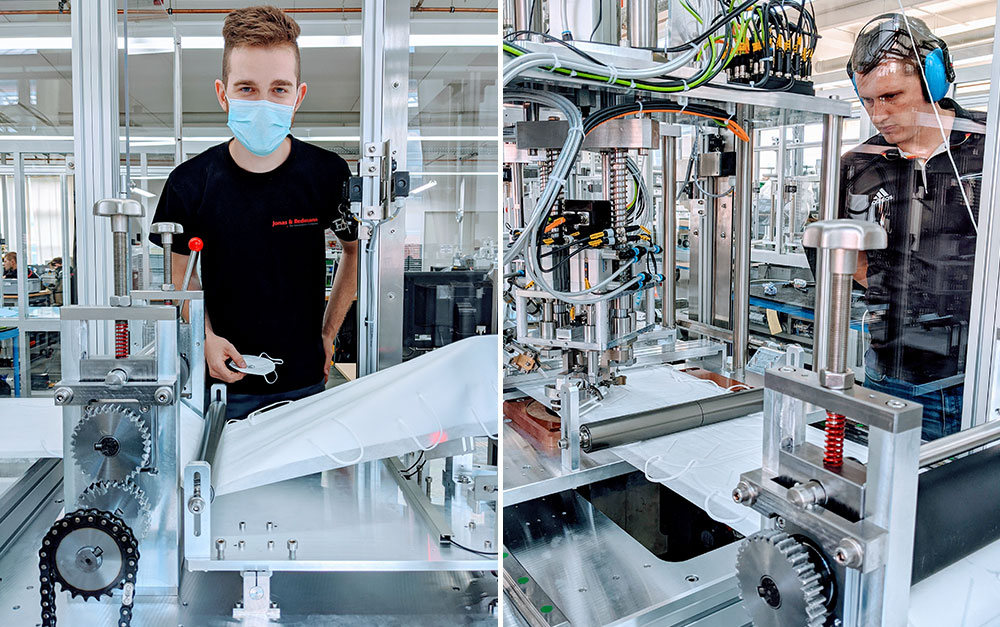 Different Customers, Same Goal – Making Masks
The production lines for making masks are aimed at three different types of customer. Firstly, there are the large companies, where there is no doubt that making masks for use in in-house production is worthwhile. This safeguards their independence and enables them to supply their staff with masks they have made themselves. "The customer can start running their machine as soon as they take delivery. As with all our machines, system operation is geared towards the user," explains Klärs. Secondly, there are companies that have been commissioned directly by the authorities to manufacture masks. They will either already be operating in a related area, such as textile manufacture, or they will have already built up trust with politicians.
Thirdly, there are companies that normally operate in a different field but have switched to mask production either to develop a second mainstay or due to current demand. In all three cases, quality, service and speed are critical factors. If a customer wishes to manufacture standard masks, the whole process from ordering through to delivery of the production system takes just eight weeks or so. The delivery time for custom solutions is correspondingly longer. For instance, customers may have specific requirements regarding the nose clip or the design of the headbands that require modifications to the standardized production system. However, one thing applies to all system variants: "We naturally use tested materials. The masks made on our machines guarantee certified protective performance. Our customers can rely on that 100 percent, even if additional customer-specific requirements are being implemented," declares Klärs.
Interested in discovering how other companies have optimized their standard processes in response to the COVID-19 pandemic? Subscribe to the item Blog by selecting the box on the right and entering your information!