A look and some preventative options to keep your employees safe from the spread of COVID-19.
As the entire world adjusts to the new normal of socially distancing themselves from each other to help prevent the spread of the novel Coronavirus strain COVID-19, the industries remaining in production face a unique challenge: how can you encourage or enable social distancing while allowing for normal production procedures to remain in place? If production line stations are three feet apart and the line cannot be moved, what can a manager do to ensure their staff's safety and health?
Good sanitation goes a long way.  As researchers have shown, the COVID-19 virus can live on some hard surfaces (like stainless steel and plastic) for up to 72 hours.  By constantly wiping surfaces with disinfectants like bleach solutions or 70% isopropyl alcohol, a certain level of safety is possible.  Add the perennially good habit of frequent hand washing and a production facility is even better-poised to weather the COVID-19 – or any other – outbreak.  Last of all, ensuring sick employees stay home until they are well is imperative to help keep everyone healthy.
We also know from recent medical research on the COVID-19 virus that some people carry the virus without exhibiting any symptoms.  Therefore, having a Containment Strategy is a wise idea for any company that remains in production during the Coronavirus outbreak.
What is a Containment Strategy? Having a Containment Strategy means you develop systems that keep people safely separated while allowing them to work in their normal (or near-normal) environments.  There are many tools besides sanitation to implement in this situation.  Temporary barriers and screens, hand sanitizer stations, and enclosures are all ways to ensure a means of social distancing in plants where employee workstations may be closer than six feet from each other.
Temporary Barriers and Screens
Temporary barriers like the ones pictured below, built with the MB Building Kit System from item, incorporate several practical solutions into one simple design.  A clear polycarbonate panel allows total visibility but ensures a barrier between two stations.  The "pass-through" shelf under the tall panel (left) allows tools or work-pieces to be easily exchanged without the employee having to leave the station.  IN the case of the counter or tabletop version, items can be passed below the panel.  These simple, but sturdy frames can be built quickly and adapted to any size or shape requirements.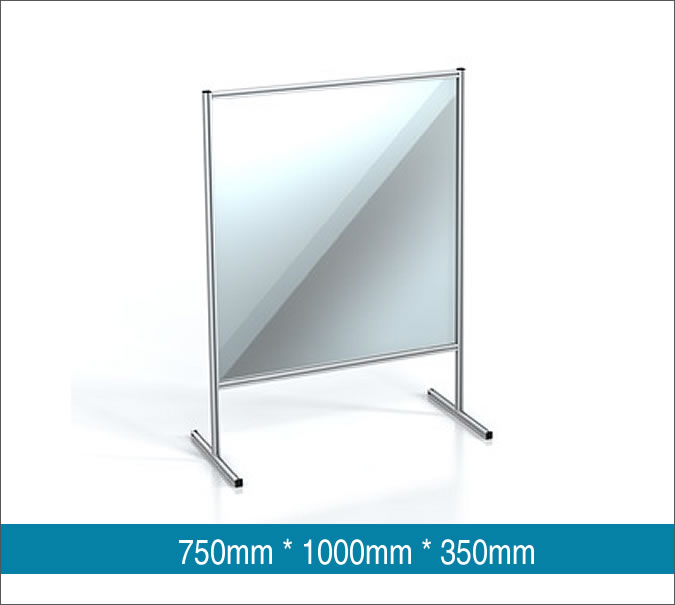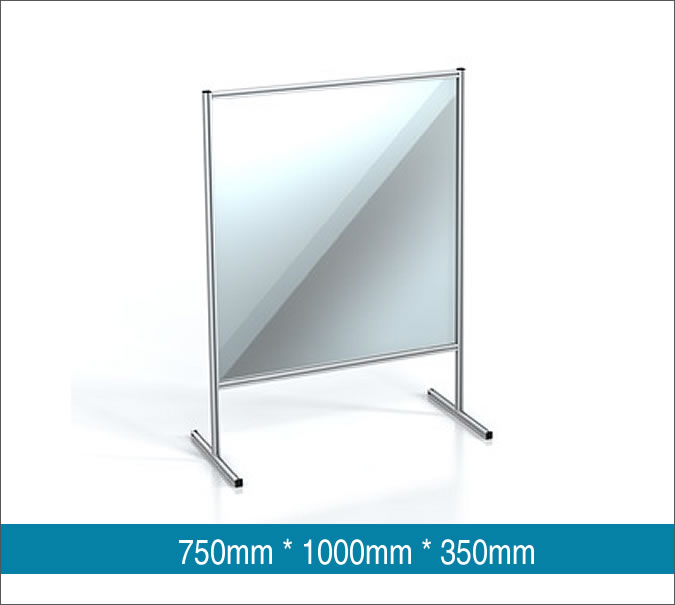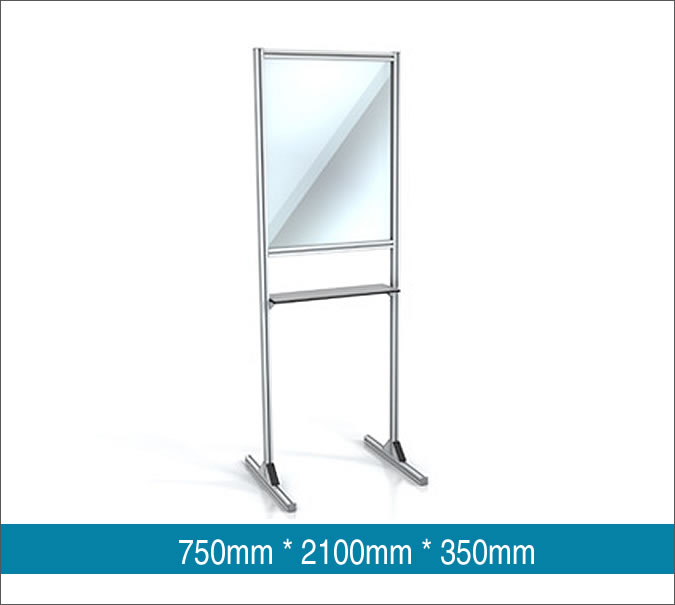 Hand Sanitizer Stations
We all know that frequent hand washing is a major deterrent to the spread of Coronavirus.  However, we also know that hand washing stations are not always immediately available, particularly on a factory floor.  This is where Hand Sanitizer Stations like the two featured below are "handy" to have around – pun intended. The examples seen here, built using item Lean Production Building Kit System Profile D30 in bright red, are a quick, eye-catching, and easy-to-assemble hand sanitation solution for busy employees on the job.  Using item accessories like bottle holders or grab trays (in this case doubling as a drip tray) makes this project even easier to execute.  The myriad of accessory options available make customizing a station for your plant quick and easy!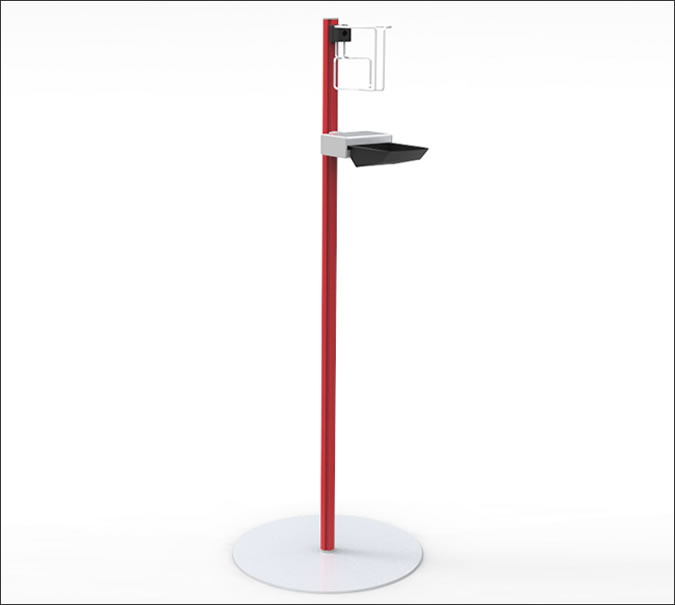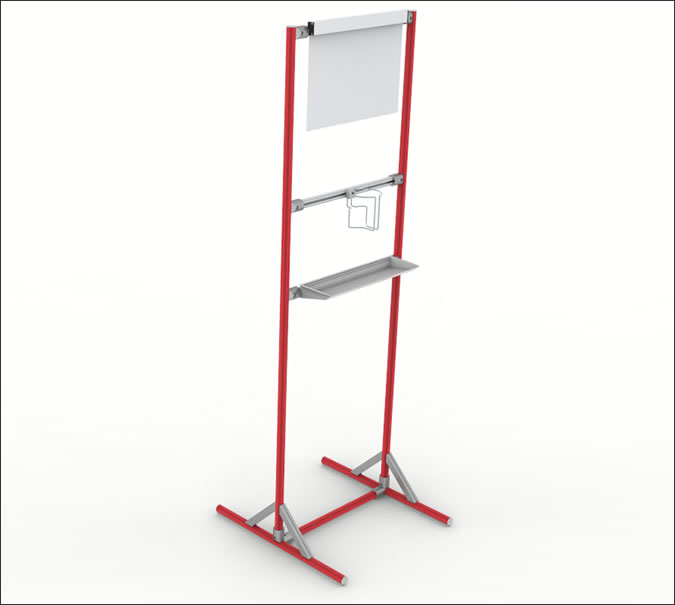 Enclosures
Enclosures are another weapon in the arsenal to fight spreading illness.  Although similar to barriers and screens, enclosures fully or partially surround an area for use in different applications.  For example, enclosures may be employed in medical locations – like temporary hospitals – where ill patients need to be separated from the well.  In addition, enclosed work areas could be a boon for plant employees who suffer from compromised immune systems or other conditions that increase their individual risk of infection.  While simple enclosures can be built using the item MB Building Kit System, more elaborate enclosures can be built using Line XMS from item.  Special radii corners, profiles with built-in cord management conduits and sealable panel grooves make Line XMS an ideal choice for an enclosure needing to reach clean room requirements.
Back to Normal?
In order to return to normal working conditions, containment measures must be employed to slow the rate of infection.  For those team members who must still work on location, appropriate steps should be taken to keep them safe and to help prevent them from going on to spread the virus to others.  By taking the cleanliness and sanitation steps outlined above and using Containment Solutions as part of your company's Containment Strategy, you can be a proactive force in combating the spread of COVID-19.
To see the Containment Solutions shown here, and more, visit the item Solution Center now!  To discuss your own strategy and how to implement some of the Containment Solutions shown here, feel free to reach out to your local item Expert or send an email to sales@item24.us.  Our Experts are ready to consult with you virtually via phone, email, and video conference.