In Stuttgart and Orlando, a global push for women in the workforce.
Around the world, there is a call for women to join the STEM field that is constantly growing louder and louder. The AWE team was able to hear that call, and meet women driving the road to change, at two separate events during the month of June. The first, the Women Automotive Summit, took place in Stuttgart, Germany. The second, the Women in Automotive conference, took place in Orlando, Florida.
Key Word: Diversity
Two different events, two very different atmospheres, the same call at the heart of each presentation: the need for diversity amongst employees in the automotive industry. Sophie Seiwald, Managing Director of Mercedes-Benz.io, presented her thoughts on the importance of diversity at the Stuttgart Summit. She quoted American entrepreneur Malcolm Forbes, saying "Diversity [is] the art of thinking independently together." Citing disruptive forces including the empowered consumer, tech, a war for talent, fast-paced competition, and societal challenges, Seiwald called on attendees to embrace diversity as more than ethnicity and gender, but instead a mindset and perspective that leads to a diversity of thought in the workplace.
Ms. Seiwald's call for embracement of diversity was echoed by Julie Kratz, a speaker at the Orlando Women in Automotive conference. Kratz is a leadership trainer, speaker, and founder of Pivot Point, a program that "trains women to build career game plans, [and] promotes equality in the workplace." During her presentation, Kratz used a concept created by Marilyn Loden and Judy Rosener that details the multiple dimensions of diversity; with elements impacting diversity ranging from identity, to primary (age, gender, ethnicity), secondary (location, education), organizational (industry, role), and cultural (time, traditional observances). Ms. Kratz continued, explaining her simple equation: Diversity = Better Ideas = Better Decisions = More Innovation = Better Financial Performance.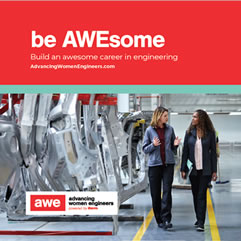 Want more information?
item West's own K.J. Cocke, an engineer based out of their Utah offices, provided her own guidance on diversity in the workforce as she led a roundtable discussion at the Orlando conference. Focused on navigating career as her topic, K.J. provided her experience as both a woman and a 20-something millenial tackling a male-dominated workforce. Her experiences, and those of the guests at her roundtable, echoed the calls for diversity and approaches for breaking glass ceilings that Ms. Seiwald and Ms. Kratz spoke on.
Closing the Gap
Both Seiwald and Kratz approached their presentations with ideas to close the gap on female involvement in male-dominated fields, particularly those that fall under the STEM career umbrella. Ms. Seiwald recommended women embrace the unique approach women bring to disruptive forces, whether it's embracing the era of tech or hitting the ground running when tackling fast-paced competition and societal challenges. Ms. Kratz suggests a more inward approach, taking the time to identify workplace behaviors like microaggressions while avoiding the concepts of covering (hiding qualities that make you unique as a person in order to blend in) and checking any unconscious bias before entering the workplace. Both women agree that diversity is an experience, and at that one that every individual in the modern workforce should be exposed to for the future benefit of society.