In South Carolina, a local Arts Center is leading the way by popularizing STEM and STEAM careers among today's youth.
The small town of Greenwood, South Carolina, is known for its position right on Lake Greenwood in the Lakelands area of South Carolina. It's also the home of item Southeast, an item America office and one of the forces behind Advancing Women Engineers. Now, Greenwood is putting itself on the map as a center for the future of STEM in South Carolina. Sylvia Martin, Outreach and Education Coordinator for the Arts Center of Greenwood was kind enough to sit down and chat with AWE about her organization's efforts to create youth programs that encourage interest in STEAM. Her work on iMAGINE STEAM Greenwood led to a successful inaugural festival focused on science, technology, engineering, arts, and math fields.
"STEAM education is all about teaching in tandem concepts from science, technology, engineering, art, and math so that students see the connections," according to Ms. Martin. Since 2014, Sylvia has created events on behalf of the Arts Center, showing the integration between arts and STEAM. These events range from one-day festivals or 'fun days' to robotics teams comprised of kids.
How We Got Here
The road to the iMAGINE STEAM event began as STEAM Family Fundays. With the involvement of Greenwood-based Lander University and nearby Piedmont Technical College, Ms. Martin saw entire families enjoying the event's attractions together and walking away encouraged and engaged. Close to 4,000 participants stretched through Greenwood, enjoying exhibits ranging from flashlight making, robot programming, and drone flying to beekeeping, snake handling, and topiary building.
The 2019 iMAGINE STEAM festival came together with hard work from a core group of involved individuals, and the support of a community. A task force established in 2017 created an advisory board with the City of Greenwood representatives, the Arts Center team, and event sponsors. This task force aimed to involve more groups, and their success showed as over 50 exhibitors gathered for the event. STEM groups from local schools turned out, students in tow, to showcase what they had worked on as well as pick up a few new experiences. Small Businesses like Greenwood Aerial Photography showcased how they use technology in their day-to-day jobs.
Fun for All, and All for Fun
A parent quoted on iMAGINE STEAM SC's website, when asked about the event, explained:
"We had a marvelous time… I loved that my kids got to see/hear/touch the answers to ALL those questions kids ask… why is the sky blue? How do bees make honey? How do bees make honey? How do they clean the water? How does an owl look around without moving his eyeballs? What makes tornadoes sound like trains? What does a snake feel like? How does an engine work? What makes rainbows? And on and on!"
Ms. Martin and the rest of the team behind iMAGINE STEAM are already focused on 2020's event and how it will grow from the inaugural festival.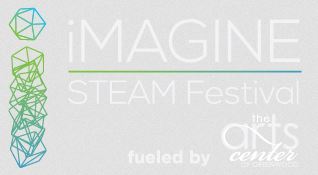 Are you local to South Carolina?
Mark your calendars
for April 18, 2020
in Greenwood, South Carolina!