Understanding the differences and selecting the best aluminum profiles – find out which type is most appropriate for your specific project.
Screws instead of welds, aluminum instead of steel! This was the revolutionary idea of the two founders of item, Gerrit Pies and Wolfgang Rixen, that kicked off the success story of the modular item Building Kit System for aluminum profiles in 1980. The benefits are low weight combined with maximum stability, rapid assembly thanks to innovative fastening technology, cost savings compared to steel and decisive flexibility. All these advantages are currently available across more than 4,500 mutually compatible components – and the range is continuously expanding. What's more, the anodized aluminum profiles from item have inclined groove flanks. When fasteners are used in the groove, the groove flanks press against the fasteners in the elastic range, creating additional pre-tensioning that ensures the fasteners are even more secure. When it comes to vibrations in a machine base, for example, this represents a key advantage. These days, the modular profile technology from item is used in all kinds of projects by engineers around the world, ranging from simple frames to fully automated production lines.
However, what types of item aluminum profiles are there? What are the differences between them? And which aluminum profile is best used to meet which requirements? This post addresses these questions for newcomers to the world of item. In addition to the "classic" aluminum profiles, that is to say, the construction profiles, there are also other types – Line X and the profile tubes of Profile Tube System D30. Profile KH, on the other hand, offers a metal-free, sustainable alternative to aluminum profiles, and is also used for EMC applications. You'll find more information about this special profile in an interview on our blog.
Differences at a glance: Aluminum profile types and their primary characteristics
The aluminum item construction profiles can be divided into five different types (item calls these lines): Line 5, 6, 8, 10 and 12. These different aluminum profiles are designed to meet different user requirements. Three geometric characteristics help to meet different needs, and all the lines differ in respect of the following:
Modular dimension: Each line is based on mostly square profiles with an external dimension of 20, 30, 40, 50 or 60 mm. Continuous grooves run along all four sides.
Groove dimension: The size and load-carrying capacity of the groove increase in line with the modular dimension. Most profile connections are anchored in the groove. The groove also serves as an anchor point for panel elements.
Bore diameter: The core bore offers a stable fastening point at the end faces of the aluminum profiles. This bore can be used as a basis for subsequently tapping a thread.

In addition, there are different designs within the lines: Standard, Light and Economy. "Standard" speaks for itself. "Light" profiles are lightweight, while "Economy" profiles have a material-optimized design. In each of the two latter designs, the maximum tensile loading of the profiles is reduced.
It must be noted, however, that not every aluminum profile is available in all three designs. Fundamentally, item aluminum profiles are always described using the following pattern, in the item Online Shop, for example. Profile 8 40×40 1N light, natural. These descriptions can be deciphered as follows: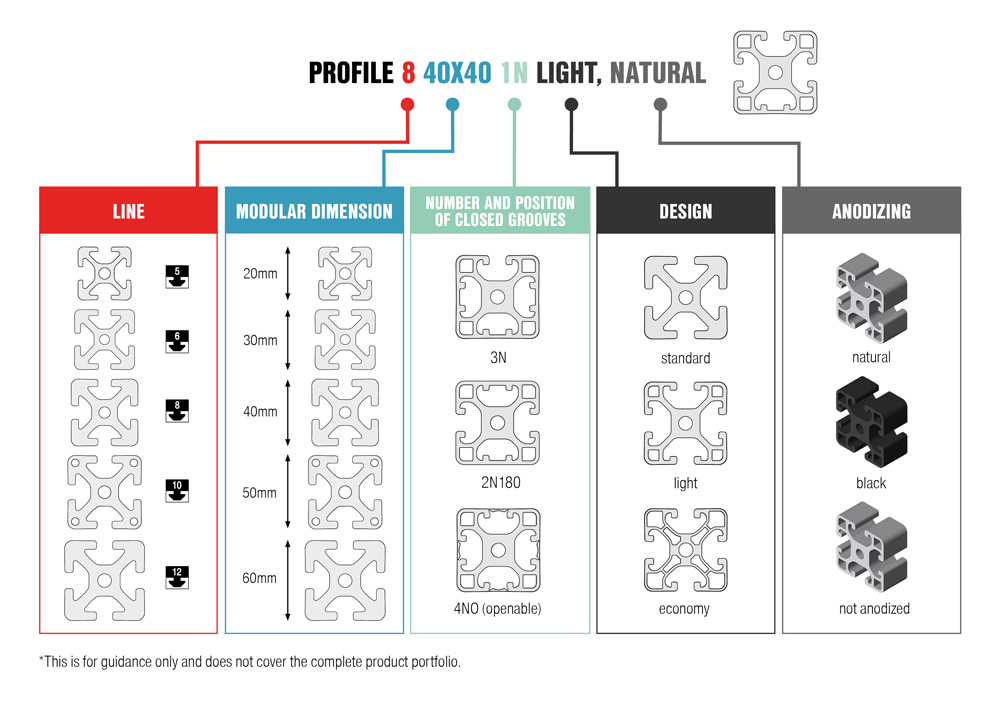 Compact aluminum profiles for precision work – Line 5
Line 5 aluminum profiles with a modular dimension of 20 mm are ideal for weight-optimized constructions of all kinds. Line 5 profiles can be used to create refined, stable and flexible applications. The small exterior dimensions make these profiles particularly well suited for space-saving and compact jigs, covers and handling equipment. Their low material consumption also mean they conserve resources. Line 5 aluminum profiles are available with open or closed grooves. A closed groove eliminates the problem of dirt accumulation in grooves.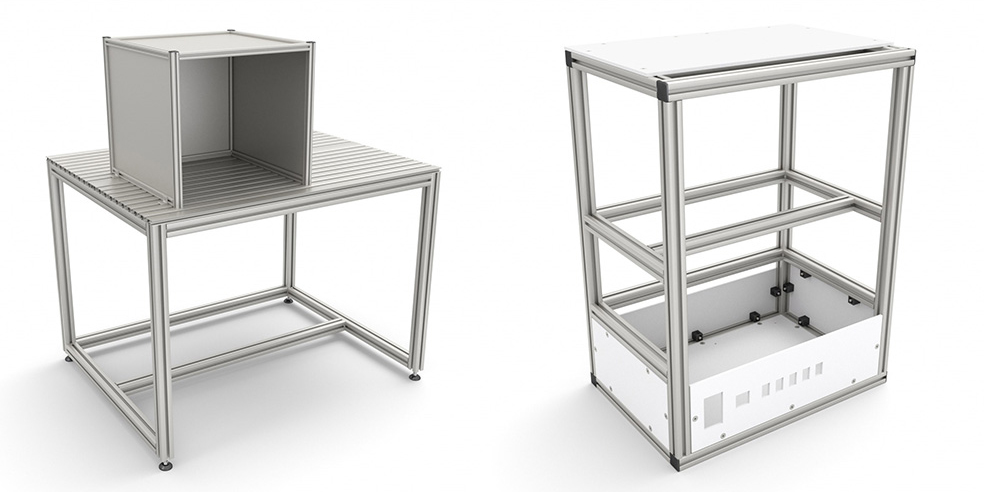 Line 5 aluminum profiles have been used to construct this laboratory bench hood (top left, the bench itself is based on Line 8 profiles), for example, and to build this control unit test station (right).
The lightweight alternative: Line 6 aluminum profiles
Line 6 profiles with a modular dimension of 30 mm are ideal for all kinds of weight-optimized constructions. Using these aluminum profiles makes it easy to adapt the use of materials to the task at hand and rely on a slimline, robust design. Again, open or closed grooves can be used. The latter are easy to clean and also have a particularly elegant aesthetic. Line 6 profiles create functional and attractive display cases, tables and cover hoods.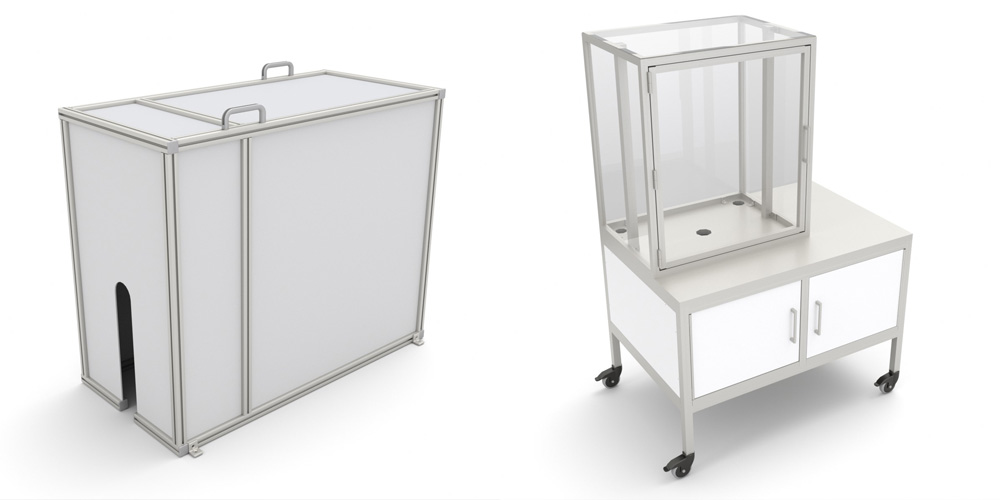 Line 6: This type of aluminum profile can be used to create a hood for a motor (left) or a laboratory trolley (right) for example
Universal and robust all-rounder: Line 8
Line 8 profiles with a modular dimension of 40 mm are the most frequently used of all the item aluminum profiles worldwide. Their great versatility makes Line 8 profiles the perfect choice for machines and systems of all sizes. Thanks to their design, these aluminum profiles are light and robust, offering a wide range of uses with a service life of many years. This robust aluminum profile for load-optimized constructions is available with open or closed grooves. Profiles with closed grooves are particularly easy to clean and can be combined with conventional profiles as required. Line X (more about this further down) uses the Line 8 profile groove.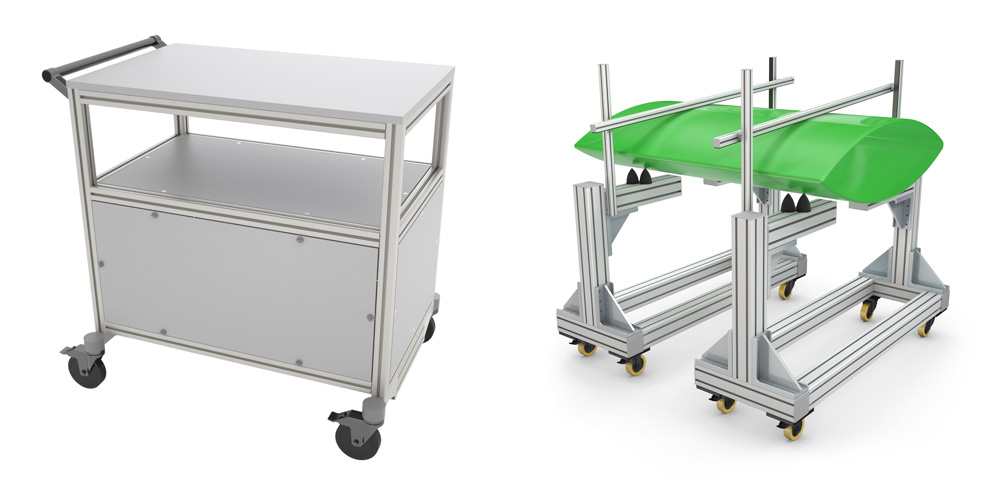 This sturdy workshop trolley (left) and heavy-duty workpiece carrier (right) are based on Line 8.
Increased load-carrying capacity for robust constructions: Line 10
Line 10 profiles with a modular dimension of 50 mm are ideal for load-bearing profile constructions. The 10 mm groove width makes it possible to work with accessories with thread size M10. This increased load-carrying capacity can be fully utilized thanks to the strong groove flanks. The fasteners also play a part in this. All Fastening Sets 10 consist entirely of high-performance steels so that pre-tensioning is always available in full. As a result, there is reliable protection from loss of preload. The maximum permissible load-bearing capacity is 7000 N. Various different cross-sections are available for Line 10 aluminum profiles. The weight-optimized Profiles 10 E can be used in areas involving lower loads. The end faces and the grooved sides of the aluminum profiles can be closed using matching plastic caps and cover profiles.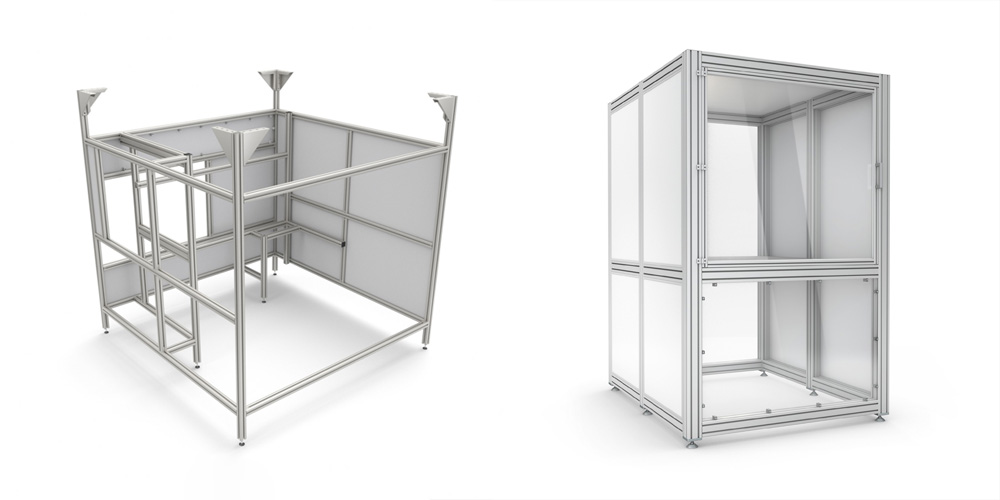 These machine bases are example applications for Line 10.
The robust option for load-carrying applications: Line 12 aluminum profiles
When it comes to creating stable, heavy-duty frame structures, Line 12 profiles with a modular dimension of 60 mm are the ideal choice. This is the strongest profile line in the item Building Kit System. Thanks to the strength of the profile flanks, tensile loading of up to 10,000 N per screw connection is possible. What's more, the incline of the aluminum groove flanks down into the groove ensures excellent resistance to loss of preload. If areas of the basic frame are only placed under lower stress, the light version of Line 12 can be used.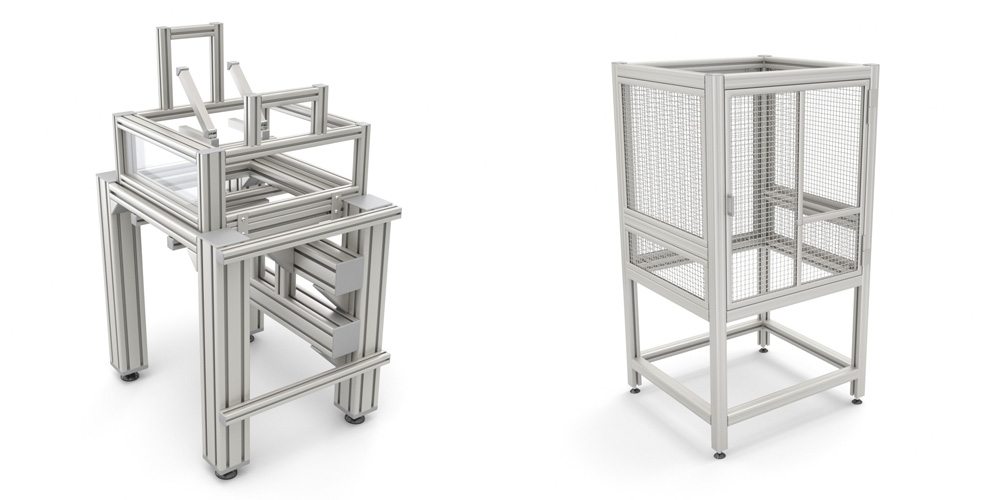 These test stands are very robust thanks to Line 12 aluminum profiles.
Optimized form for elegance and cleanliness: Line X
Constructions based on Line X exhibit the best possible combination of elegance and cleanliness. A minimized edge radius results in a seamless connection between the profiles, with no protruding edges. This produces constructions that are easy to clean, where dirt and deposits have no chance of accumulating. These aluminum profiles are therefore perfect for building machines and systems that need to be kept spotlessly clean. Line X aluminum profiles are available with open or closed grooves. The variants of Line X profiles with closed grooves are ideal for use in cleanroom production.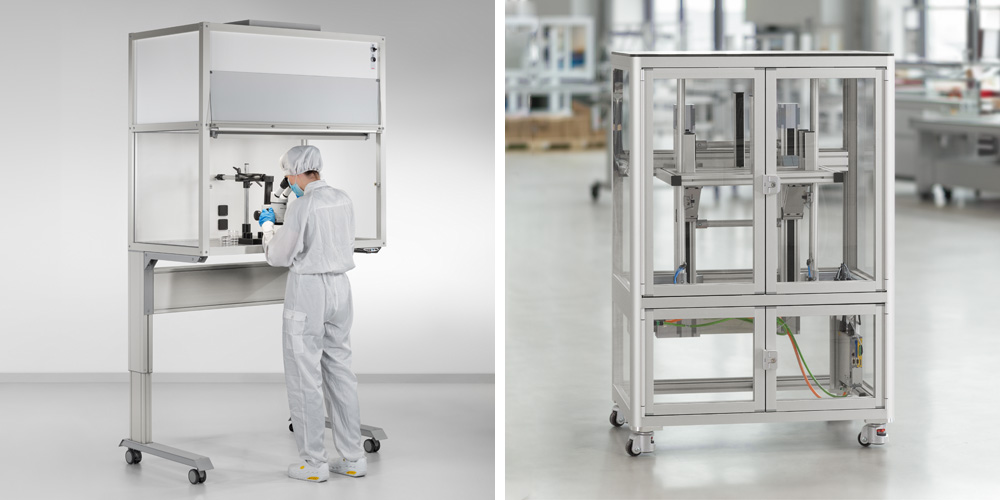 This laminar flow box (left) and machine cabin (right) are based on Line X.
Profile tubes for lean factory equipment: Profile Tube System D30
Alongside construction profiles, profile tubes are another popular type of aluminum profile. Profile Tube System D30 has been specifically designed to meet the requirements of the fast, sophisticated and solution-oriented factory equipment engineering typical of lean production. The system's (Profile) Tubes D30 can easily be cut to the desired length and connected using fasteners. Up to four fasteners can be connected to the same intersection point on a Profile Tube.
A special geometry is what makes the aluminum profile tubes so efficient. Four slimline, undercut flanks are enveloped by Fastener D30. Depending on the direction, the fastener is mechanically locked, but its connection is friction-based in the main load direction. Struts can be attached separately on each of the four sides. One person working with a single tool can make all the necessary connections. The five colors of Profile Tubes D30 provide quick orientation and help to clearly differentiate between areas or frames. The silk-matt powder-coating is abrasion resistant, and the anodized Profile Tube D30 and the black powder-coated Profile Tube are both ESD-safe. There are three standard lengths for the anodized Profile Tube D30 – 3000, 4000 and 6000 mm. Alternatively, a custom cut-off that has been sawn to size with millimeter precision can be ordered.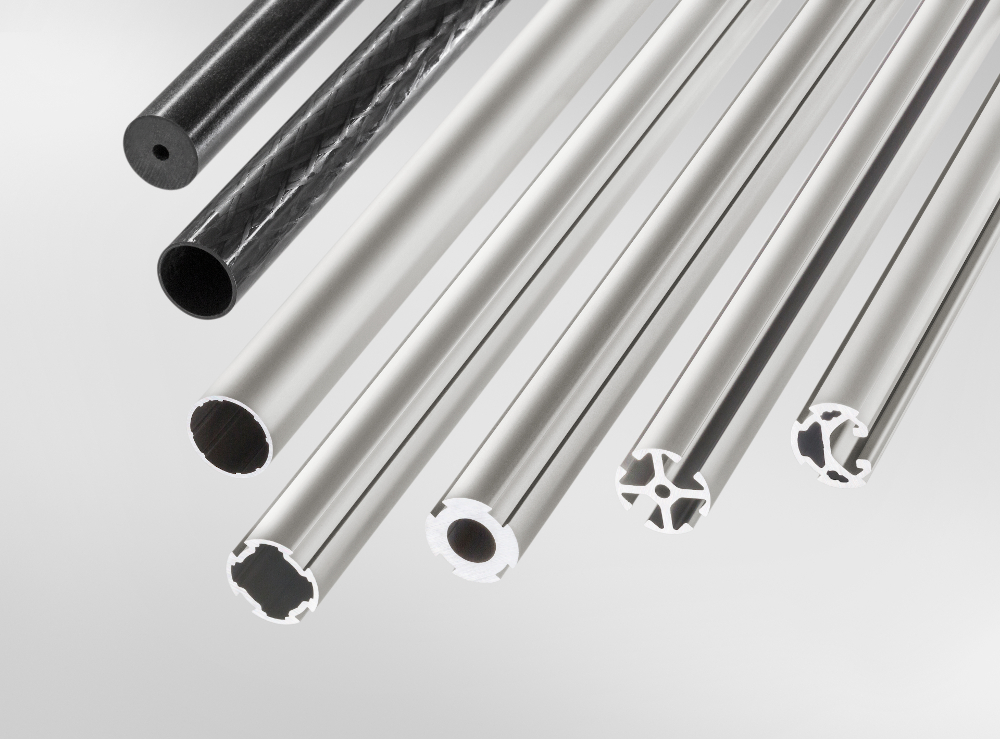 The aluminum Profile Tubes D30 are significantly lighter than steel tubes and permanently stable.
Want to keep up to date with everything that's going on in the world of item? Simply subscribe to the item blog by completing the box at the top right.