The one-of-a-kind tool for ESD Safety at the Work Bench
The innovative online tools from item make it easier for customers to design and configure tailored solutions. Now, the team at item has completely revamped its configurator for creating ergonomic and modular assembly work benches. Today, in part two of our series on the revamped item WBS Configurator, we're exploring the upgrades for ESD Safety with two of the preeminent digital tool and Work Bench System experts from item: Christian Thiel (Product Manager and item Expert for digitalization and engineering) and Marius Geibel (product manager and Ergonomic Work Bench System Expert).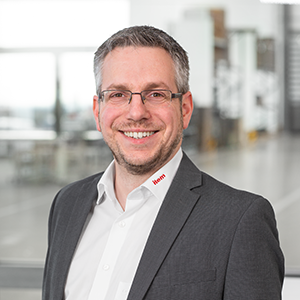 Christian Thiel, item Expert for digitalization and engineering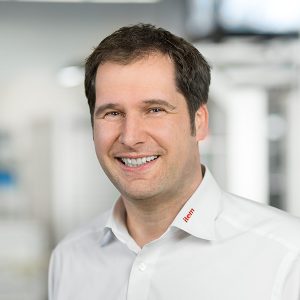 Marius Geibel, item Expert for ergonomic work bench systems
When it comes to work benches, ESD Safety is a major issue. Are there any innovations in this respect?
Christian Thiel: Certainly. We are deliberately focusing our attention on every aspect of this matter. The Work Bench Configurator asks users at the start whether or not their work bench requires ESD safety features. They have to give an answer here as well, otherwise the "Next" button won't appear. Those who want to learn more about ESD can click a link to head straight to the learning module on ESD featured in the item Academy.
Marius Geibel: Of course, clicking "No" at that point cuts out the following steps. The whole thing isn't overloaded with features for those who don't need them. And those who do need ESD safety are carefully guided through the process, but still have enough scope to find exactly what they need. It's very much centred around the user.
What are the other ESD functions in the Work Bench Configurator like?
Christian Thiel: Just like in the item Engineeringtool, a component at risk of accidental collisions is highlighted in red. In addition to this, a yellow warning now appears if a part that isn't ESD-safe is placed inside the EPA. Users can precisely specify where their work bench requires ESD safety and where such protection is not needed.
We talked to customers a lot while developing the new Work Bench Configurator and found that visualizing the EPA – an option we now offer – satisfies a pressing customer need. This is a genuine unique selling point. No other online tool is currently able to do this.
The ability to define the EPA gives users the flexibility to satisfy their specific requirements.
And what happens if I add products that are not ESD-safe?
Christian Thiel: If I click "Next", the Work Bench Configurator tells me that non-dissipative articles have been placed in my project's EPA. I can then move, delete or tolerate these articles as appropriate. A Parts Container with a large surface area poses a far greater risk of damaging electronic components than a small holder. This is also factored into the documentation, which shows the measured EPA. If a project contains non-dissipative products, this is also stated in the ESD documentation. Just to make it even clearer.
Flexibility from Start to Finish
Say requirements change halfway through the process and someone needs an ESD bench even though they have already configured their bench differently. What do they have to do?
Christian Thiel:In lots of other systems, it would take a great deal of effort to change it again. In the Work Bench Configurator, however, it's entirely straightforward. With just one click, you can bring the bench properties back in line with ESD safety requirements and all mechanisms are reactivated. Even the work area is automatically given an ESD-safe design.
We also have ESD measurement points. Our production team uses these as points of reference and performs measurements that are later listed in the ESD measurement log. Customers receive a separate ESD measurement log for every one of their ESD benches. This log proves to our customers that the bench in question is ESD-safe.
Marius Geibel: The ESD safety features offer the customer clear advantages. We can now ensure a far higher level of safety. In the past, this always involved manual work. Now, it is systematically taken into account and mapped in line with the relevant standards. In this way, we give our customers maximum reassurance that they can design ESD-safe solutions with us.
The implemented rules save the user a great deal of effort. You cannot go wrong in the Work Bench Configurator. Essentially, it's like a digital form of Poka Yoke.
What are the next steps for the item Work Bench Configurator?
Christian Thiel: Although the Work Bench Configurator looks, feels and works much like the tried-and-tested item Engineeringtool, it's not actually integrated into the Engineeringtool. This means users can focus entirely on work benches, as they are conveniently guided through the process. Our goal is to ensure the Work Bench Configurator can later hand over its results to the item Engineeringtool. When we get to that point, I'll then have a custom work bench and be able to combine it with my own constructions.
In the future, that could mean someone planning a virtual work bench in the Work Bench Configurator and then integrating it into a virtual-reality simulation of their production facility. During this simulation, the actual users can make sure that their requirements for ergonomics, material supply and tool stowage have been met – without any need to cut up and stick together cardboard mock-ups beforehand. This practice is also known as virtual cardboard engineering. Modifications and corrections can be made considerably faster and cheaper as a result.
We are always interested in hearing feedback and requests for new functions. It goes without saying that our development work will continue to focus on customer needs. That's extremely important to us. The more feedback we receive, the better. Last but not least, we still have lots of ideas up our sleeve and are keen to see them help our customers.
Learning More About the new Configurator
Interested in trying out the newly revamped item Work Bench Configurator? Click here to navigate to our website and the tool. Subscribe to the blog on the top right in order to stay informed – and read part one of our series on the revamped WBS Configurator here.