Creating custom work benches has become even more efficient and intuitive with the Work Bench Configurator from item.
The innovative online tools from item make it easier for customers to design and configure tailored solutions. Now, the team at item has completely revamped its configurator for creating ergonomic and modular assembly work benches.
Recent upgrades were made with two factors in mind: the vast expertise item has built up in work bench system production, and customer feedback.
Some of the newest features and functions include:
Three-dimensional view, similar to the item Engineeringtool
Intuitive drag-and-drop controls
Electrostatic Protected Area visualizing
Collision warnings
We're exploring the Work Bench Configurator's new features with two of the preeminent digital tool and Work Bench System experts from item: Christian Thiel (Product Manager and item Expert for digitalization and engineering) and Marius Geibel (product manager and Ergonomic Work Bench System Expert).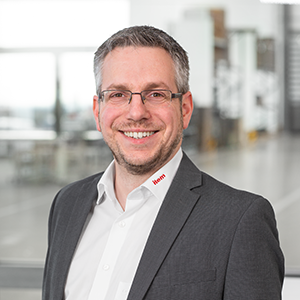 Christian Thiel, item Expert for digitalization and engineering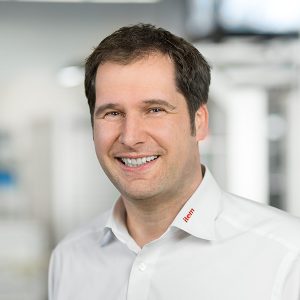 Marius Geibel, item Expert for ergonomic work bench systems
What are the key updates in the new Work Bench Configurator?
Christian Thiel: What instantly catches eye is, of course, the fact that the Work Bench Configurator now has a 3D view much like the item Engineeringtool. Within the working area, you can zoom in and out, move around freely, and drag and drop components. And you can immediately see in 3D what you've configured. There are also now filters that are centered entirely around the customer, who no longer needs to know the product names. Instead, users are directly asked what they need. That could be, for example, whether they're interested in maximum load-carrying capacity or would like an electric or manual height-adjustment system.
What's more, the red info points give users additional information to assist with technical matters. The comprehensive documentation provided is also similar to the documentation generated by the item Engineeringtool and contains all the information the customer needs about their projects and configured design. In addition, users can export CAD data and use it in other planning systems, such as those for planning production areas.
Marcus Geibel: When developing this solution, it was really important to us to ensure that what you see is what you get – right down to the smallest detail. The user sees a precise three-dimensional visualization of what they will receive. This is vital, particularly when it comes to designing ergonomic work benches.
Christian Thiel: Precisely. If I'm using the new Work Bench Configurator and want, say, a Strut Set, I just drag it onto the work area – and the tool shows me where I can place it directly in the right position and the right width. I can also adjust the height and add accessory components, such as those from our ergologistic® portfolio, which combines ergonomics with intralogistics. I can therefore quickly and easily kit out my ergonomic work bench from top to bottom.
The Work Bench Configurator is also smart and saves planning staff a lot of work thanks to its intelligent automatic processes. It even ensures the bench is exceptionally stable by automatically adapting the profile cross-sections to the size of the design.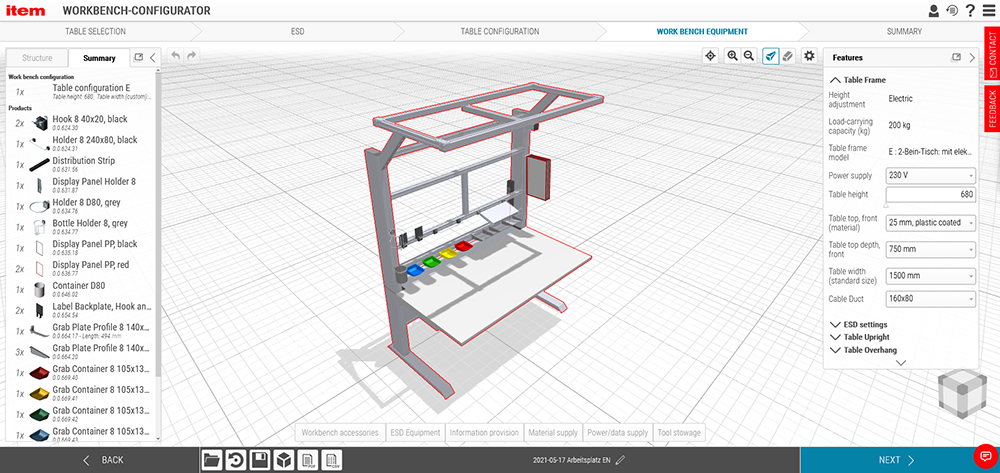 What's the situation with accessory components? Has anything changed there?
Christian Thiel: Besides being able to place selected components directly where they are to be used, you can also decide whether you'd like to have the accessory you've precisely planned in the configurator delivered already fitted. That means the entire solution can be put to use even more quickly and safely.
Necessary fastening elements are added automatically as well. Another key advantage of the new Work Bench Configurator is that users are not limited to standard sizes for the width of their bench. This is convenient for situations when someone realizes during the planning process that, instead of a standard size like 1500mm, they only have 1480mm to play with.
How has the Work Bench Configurator solved that issue?
Christian Thiel: Since we are intently focused on the benefits to the customer and eager to get the most out of digitalization, you can now choose between a standard size or a custom bench width. The bench can be seamlessly adjusted to exactly your needs.
This means work benches in custom sizes are available in batch sizes as small as one. From a customer's perspective, there's no difference between requesting a standard-size bench or ordering one in exactly the right size because, thanks to digitalization, we've managed to optimize our processes to ensure our customers always benefit from the fastest delivery time.
In other words, there is no downside for the customer. They save time and money because they no longer need any additional engineering services to customize the bench width. We offer our customers the best delivery times for all benches, even custom-made solution.
Marcus Geibel: We also realized that there is a strong trend towards fully configuring customized benches. In response to this trend – and to make work easier for users – we incorporated relevant functions. Everything has been very much standardized, although the outcome is a rules-based, custom-made solution.
Christian Thiel: Personally, I always say that digitalization must never be an end in itself, but rather a win-win situation for everyone involved. You can quite clearly see that's the case here. Our customers have a clear advantage because they receive a solution tailored to their needs. In-house economies of scale mean we offer extremely short delivery times, too. By consistently reducing outlay in this way, both parties save time and money.
Learning More About the new Configurator
Interested in trying out the newly revamped item Work Bench Configurator? Click here to navigate to our website and the tool. Subscribe to the blog on the top right in order to stay informed – we'll be publishing a second article focusing on the Configurator's new ESD Protected Area (EPA) visualization capabilities. In the meantime, explore the rest of the innovative item digital tools for free here.